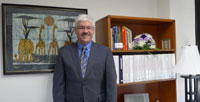 The Montgomery College Libraries would like to introduce and welcome Mr. Tanner Wray, the new director of college libraries and information services. Mr. Wray started at Montgomery College on November 19. In his role as director, Mr. Wray is responsible for overseeing the programs and services at the libraries across the three campuses. Mr. Wray has been employed as a librarian for 24 years, most recently as director of public services at the University of Maryland, where his projects emphasized collaboration across the institution, and included working to design and implement a learning commons. He has also held positions in which he managed programs, services and systems at the University of Wisconsin, The George Washington University Medical Center, National Library of Medicine, Centers for Disease Control, and National Agricultural Library. Mr. Wray holds a BS from MIT in earth and planetary sciences, and an MLS in information studies from Syracuse University.
Mr. Wray is excited to be working at Montgomery College, and looks forward to improving and enhancing library and information services, including implementing a One College approach to information service provision for students, faculty and staff.
Mr. Wray's office is located in Macklin Tower room 303J. He can be reached by telephone at 240-567-7101 and by email at
tanner.wray@montgomerycollege.edu
.